Tennessee has one of the highest fatal car wreck rates in the country. According to the Insurance Institute for Highway Safety, our state saw just over 1,000 road accident fatalities in 2016, at a rate of 15.7 per 100,000 of the population – the fourth highest of all states behind only Wyoming, Oklahoma and South Carolina.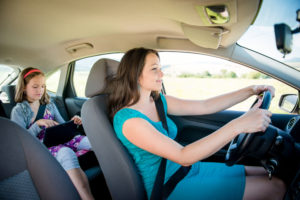 That means simply being on the road is a risk, for yourself and your family. You could be the world's most responsible driver, however, this research shows that you are surrounded by negligent motorists who are frequently involved in serious crashes.
Young children are especially vulnerable to severe injuries in the event of an accident. Although child car seats are highly effective at keeping kids safe, many parents do not use high-quality seats that are designed for their children's weight, height and age. In this blog, we'll discuss a few tips to help you choose the best safety seat for your child.
If you or someone in your family has already been injured in a collision, speak to a Nashville personal injury lawyer at The Law Office of George R. Fusner Jr. to learn about the claims process. George R. Fusner Jr. has over 40 years of experience as a practicing attorney. Call615-251-0005 or  800-427-8960 today for a free initial consultation.
3 Tips for Choosing a Child Car Seat
An estimated 59 percent of car seats are used in a way that could render them unsafe or ineffective. Even if you use a safety seat correctly, it might be less effective in a collision if it is made from low-quality materials and has an outdated design. Here are three tips to consider when you go shopping for a child safety seat:
Do Your Research
There are so many options when choosing a safety seat that you would be forgiven for feeling overwhelmed. The National Highway Traffic Safety Administration has done a lot of the work for you by compiling the Car Seats Use-of-Use Ratings System. This invaluable resource examines each car seat brand and model for features, instructions and safety standards to make choosing a car seat and using it correctly a whole lot easier.
Try Before You Buy
You should shop for a car seat well before the baby arrives so you can test it to ensure it can be properly fastened in your vehicle. The belt path is an important consideration; if your seat is fastened with the car's seat belt, loop it through the path and test it by pulling hard on the seat. The seat should not move more than 1 inch in either direction when pulled.
Know the Law
According to the Tennessee child restraint law, infants under 1 (or weighing less than 20 lbs) must be secured in a rear-facing seat. Children between the ages 1 and 3 (and weighing over 20 lbs) may use a rear- for forward-facing restraint system, as per the seat's safety recommendations. Your child may move to a belt-positioning booster seat between the ages 4 and 8 and can use a standard lap belt when he or she is older than 8 or taller than 4 feet 9 inches.
Unfortunately, despite parents' best efforts to keep their kids safe, thousands of children are still injured in wrecks each year. If your child was hurt in crash, contact a personal injury lawyer at The Law Office of George R. Fusner Jr. for advice regarding your case. George R. Fusner Jr. has been a practicing accident attorney since 1977.
Call 615-251-0005 or 800-427-8960 to schedule your free initial consultation. Read more about car acrash injury claims at USAttorneys.com.
Law Office of George R. Fusner Jr.
424 Church Street, Suite 2000
Nashville, TN 37219
800-427-8960