When was the last time you saw a commercial, billboard, or pamphlet urging motorists not to drink and drive? Since every state has campaigns for combatting drunk driving, you probably see such materials on a fairly regular basis.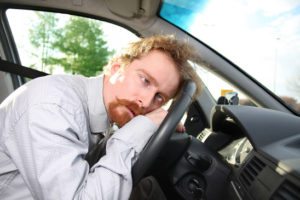 In Tennessee, for example, the Tennessee Highway Safety Office (THSO) works with law enforcement agencies and community advocacy groups to raise awareness of the dangers of driving under the influence of drugs or alcohol. Tennessee's statewide campaign, Booze It & Lose It, complements the National Highway Traffic Safety Administration's Drive Sober or Get Pulled Over campaign.
Thanks to these efforts, motorists everywhere understand why they should not get behind the wheel while impaired. Despite the publicity that it gets, though, intoxication is not the only altered state that increases the risk of causing a catastrophic collision.
According to the National Sleep Foundation, drowsy driving can be just as dangerous as drunk driving. After remaining awake for 18 consecutive hours, your reaction time and ability to focus are similar to what they are when your blood alcohol concentration is 0.05. Those who have been awake for 24 consecutive hours have the same reflexes as someone with a BAC of 0.10.
If you were hurt in an accident with a drowsy driver, you may be entitled to compensation for medical bills, lost wages, and emotional distress. To determine if you have grounds for a claim, turn to the Law Office of George R. Fusner Jr.
George R. Fusner Jr. has been practicing law since 1977. Call 615-251-0005 or 800-427-8960 to schedule a free case evaluation with a car wreck attorney in Nashville. Read on to learn a few tips for avoiding drowsy driving:
Stick to a Regular Routine
The average adult needs between seven and nine hours of sleep every night in order to thrive. If you feel the need to sleep in every weekend, you are likely not getting enough sleep during the week.
In general, you should try going to bed and waking up at the same times every day. This will help your body get into a regular routine and ensure quality sleep every single night.
Know the Signs and Symptoms
If you experience any of the signs or symptoms of drowsiness while behind the wheel, pull over to a safe place, consume a caffeinated beverage, and then take a 20 or 30-minute power nap. Signs and symptoms of drowsy driving include:
Heady eyelids;
Wandering or disconnected thoughts;
Trouble focusing on the road ahead;
Missing turns or exits;
Difficulty remembering the last few miles driven; and
Nodding off repeatedly.
Respect Your Limits 
People are often guilty of driving while drowsy on long road trips. Regardless of your itinerary or how many miles you want to cover in a single day, it is essential to listen to your body. If you find yourself getting tired while on a road trip, switch drivers, or call it a day so you can start fresh the next morning.
Sadly, you can follow all the tips above and still end up in a devastating crash with a reckless or negligent motorist. If you were hurt in a collision with a drowsy driver, contact the Law Office of George R. Fusner Jr. today.
Call 615-251-0005 or 800-427-8960 to schedule a free consultation with a car wreck lawyer in Nashville. You can learn more about accident claims in Tennessee by visiting the USAttorneys website.