Distracted driving is a serious problem around the country. In 2015 alone, it claimed 3,477 lives, according to the National Highway Traffic Safety Administration. Data from the Centers for Disease Control and Prevention shows that 1,161 people sustain injuries daily in collisions that involve distracted driving.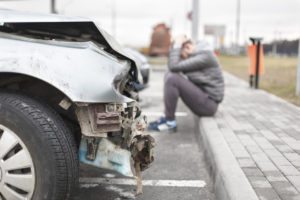 Despite the ongoing public awareness campaigns that aim to teach motorists about the dangers of distracted driving, far too many drivers make a habit out of eating breakfast behind the wheel, texting at red lights, and engaging in other distracting behaviors. I have even seen women putting on makeup while driving 70 mph on the Interstate. Unfortunately, even if you never drive while distracted, you cannot control the actions of other motorists.
If you or someone you love was injured by a distracted, drunk, or negligent driver in Tennessee, contact The Law Office of George R. Fusner Jr. George Fusner J has 40 years of experience as a practicing attorney. Call 800-427-8960 or 615-251-0005 to arrange a free initial consultation with an experienced  personal injury lawyer in Nashville who will deal directly with you..
Read on to learn about the three categories of distracted driving:
Visual Distractions
Visual distractions are those that take your eyes off the road. They might be inside your vehicle, like the LCD screen of your navigation system, or outside the car, such as an accident scene or billboard. Anything that diverts your eyes from the road ahead is a visual distraction.
Manual Distractions
Manual distractions are those that force you to take your hands off the wheel. Putting on your makeup in the rearview mirror, texting or calling someone on your smartphone, and eating or drinking behind the wheel are all examples of manual distractions.
Manual distractions are especially dangerous because they affect your control of the vehicle. Even if you keep your eyes on the road, you will not be able to react to hazards if your hands are off the wheel.
Cognitive Distractions
A cognitive distraction is anything that deters your focus from the task of driving. Something as simple as talking on your phone—or to the passenger beside you—could be considered a cognitive distraction.
The most dangerous distractions are those that take your eyes, hands, and attention off the road simultaneously. Texting while driving is just one example of a distraction that falls under all three categories. In fact, most driving distractions require some combination of your eyes, hands, and focus.
Sadly, giving into a seemingly minor distraction can have catastrophic consequences. Distracted driving causes thousands of fatalities annually and even more injuries.
If you were hurt in a collision with a distracted driver, you should not have to pay for medical expenses, lost income, and vehicle repairs out of your own pocket. Attorney
George R. Fusner Jr. will evaluate your case, gather evidence, calculate your damages, and help you fight for the maximum compensation. Call 800-427-8960 or 615-251-0005 today to schedule a free initial consultation with an accident lawyer in Nashville. Mr. Fusner will personally see you or meet you at your home or hospital.